IMPORTANT MESSAGE!
The Village of Genoa City abolished the municipal court effective the end of my term of office and I retired as municipal judge on April 30, 2019. This means I am no longer able to officiate marriages as municipal judge. With that said, I would still be honored to officiate your marriage and offer the following for your consideration: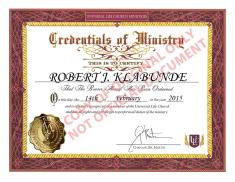 I have been an ordained non-denominational minister through the Universal Life Church since February 14, 2015 and my credentials are accepted in Wisconsin to solemnize marriages (see Wis §765.16(1m)(a)). Please understand, marriage laws vary greatly state to state and a few states have struck down some officiant credentials, declaring a marriage invalid when ending in a contested divorce . Thankfully, this is not the case in Wisconsin as there have been many marriages solemnized by ULC ministers! As with many laws, valid ULC credentials will continue to be accepted, at least until a case is brought before a trial court challenging the validity of the marriage. This may or may never happen and the outcome could certainly vary, depending on the case. If you have any questions or concerns, please feel free to contact me.
---
WHERE DO WE GET OUR MARRIAGE LICENSE?
If you are residents of Wisconsin, you must apply for your license in the county you reside in. You may marry anywhere in the state. If you are from out-of-state, you must apply for your license in the county in which you will be married in. The license is good for 30 days and may be applied for no sooner than 35 days before your wedding and no less than 5 days (7 with weekend). A waiver for the 5 day waiting period may be available depending on your particular circumstance. More information may be found on the Walworth County Clerk's site.
DO YOU NEED THE LICENSE BEFORE OUR WEDDING DAY?
Typically, no. However, by getting the license from you ahead of time, it is one less thing you have to be concerned with on your wedding day. If you apply for your license in Walworth County and make arrangements with me beforehand, you may ask them to hold the license for me and I will gladly pick it up for you before your wedding day.

PLEASE NOTE --
If you do not have a license the day of your wedding, I cannot officiate your marriage!
WILL YOU OFFICATE SAME-SEX MARRIAGES?
Yes. Decisions by the Supreme Court make same-sex marriages lawful in the State of Wisconsin. Many of the ceremony samples provided may be modified and utilized for your ceremony by replacing bride/groom with partner or spouse, etc.
WHERE CAN YOU OFFICIATE OUR CEREMONY?
Anywhere in the state of Wisconsin! Realistically though, I try to keep travel to a reasonable distance. As far as location, I have officiated marriage ceremonies anywhere from private yachts to public parks, on-stage at country fest concerts to private residences and most places in between. If you have a special location or wedding theme, just ask. I will do my best to accommodate your request.
DO WE NEED TO USE RINGS?
Absolutely not! Ceremonies may be written with or without the exchange of rings.
WHAT ABOUT WITNESSES?
You will need to provide two witnesses age 18 or over. If you are unable to provide them, I may be able to make arrangements with a couple of local individuals to witness the ceremony, depending on the date, location and time.
DO YOU REQUIRE A "MEET AND GREET"?
No. While I always look forward to meeting couples I marry, I typically do not meet them before the day of the wedding. Since schedules can be rather hectic for everyone, all wedding details can be discussed (at your convenience) by telephone or email.
SHOULD WE GET TOGETHER WITH YOU FOR A REHEARSAL?
Traditionally, it is a good idea to have a rehearsal with your wedding party, depending upon your particular circumstances. Generally, it is not necessary for me to be present as I am not a wedding planner. Since we will have already created your ceremony through our conversations, anything last minute that I need to know about can usually be discussed shortly before the ceremony. However, if you feel it necessary that I attend, I will do my best to accommodate.
WILL YOU USE A MICROPHONE IF REQUESTED?
Absolutely! Typically, a microphone is not necessary and many couples prefer it not be used. However, there are situations where a microphone is beneficial for your guests. Since I use a small book during the ceremony, a hand-held microphone is not practical. If you desire and make arrangements with me beforehand, I will bring a lavalier microphone to use for the ceremony. Please inform your DJ or sound person that the microphone is a wireless Shure TPD and has both 1/4" phone and XLR outputs to connect to their sound system.
HOW LONG IS THE CEREMONY?
The ceremony can be as long or as short as you desire. The samples listed here vary in length and may be customized to include readings/poems from friends or family, music interludes, etc., with each item adding time. The best way to calculate time is to read the ceremony out loud, including any readings or poems. Each song will add anywhere from 2 to 3 minutes. Factor in the processional and recessional and you've got it!
HOW MUCH DO YOU CHARGE?
I do not set a fee. However, I do expect to receive an honorarium. My services are compensated only by gratuity and the amount is entirely up to you.
I am often asked if I can provide an average. For those wishing a guideline; I have received anywhere from $0 to $600 as a gratuity. Many officiants in the area require a fee of $175 or more.
DO YOU REQUIRE A DEPOSIT?
Since I do not set a fee, a deposit is not required. Once I confirm your date and time it will be placed on my calendar.
MAY WE CHANGE OUR TIME IF NEEDED?
If you need to change the time of your ceremony, please contact me as soon as possible to confirm my availability as I may have other commitments that day.
If for some reason you need to cancel or reschedule, please let me know at your earliest convenience so I may plan accordingly.
WE ARE ALREADY MARRIED. WILL YOU OFFICIATE A "MOCK" WEDDING?
Sorry, no. Without going into great detail, my authority to officiate marriages requires a valid Wisconsin issued marriage license. "Officiating" a mock wedding without the required license, could be considered fraud, of which I could be held a party.
WHERE DO WE GET A COPY OF OUR MARRIAGE CERTIFICATE?
The Original Certificate of Marriage will be filed within 3 days at the register of deeds office in the county in which you were married. (Typically Walworth County) You may have received a form in your marriage packet to fill out and mail in to request copies.
If not, you may follow this link to the State of Wisconsin and fill the form out online. Once you fill out the form, PRINT IT. Send the completed and signed form to the State of Wisconsin along with any fees to receive your copies. (For faster service, I suggest you take the completed form to the register of deeds office in the county in which you were married.)
CERTIFICATE REQUEST FORM
(Requires Adobe Acrobat Reader® to view)
Don't have Adobe Acrobat Reader on your computer?
Get it here: